41 Reasons Why Pugs Are The Most Majestic Creatures On Earth
|
Pugs are a Girl's Best Friend
There are so many  qualities that makes owning a pug a MUST. Here are 41 reasons to get you started:
Don't let the pug's sometimes worried look fool you… they are happy little fellas! Own a pug, and you'll have a friend for life who will love your company than anyone else. They will follow you around from room to room and watch your every move! lol
They love to be the center of your attention and will do almost anything to keep the spotlight. Not paying attention to him? Don't be surprised if he grabs something from somewhere and dash right in front of you daring you to take it away! He wants your attention and will do whatever it takes to get you to focus on him.
1. Let's get right down to business… Pugs are majestic little lumps that emit rays of happiness and sunshine.
2. They know how to get around town in style.
3. They have a phenomenal work ethic.
4. When you wrap them in blankets, they look like tiny clumps of joy and beauty.
5. They barely even take up any space.
6. They play a mean hand of poker.
7. They jump up the stairs like tiny balls of lumpy cotton candy.
8. They are dedicated followers of  fashion.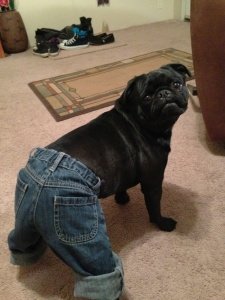 9. They have had long connections with Royalty.
10. Loving regard for other animals..
11. And such immaculate manners.
12. Pugs love to play with babies…
13. And such great baby sitters too!

14. Oops!
15. Churchillian determination.
16. They rather watch the Fridge than the  TV
17. Masters of disguise.
18. And perfect accessories.
See Next Page For Even More Pugs…..