To say simply "We Love Pugs" would be a serious understatement.
This passion for Pugs has been with the staff at Pug Channel for a very long time and it will hopefully shine through in the articles and content we produce here on the site.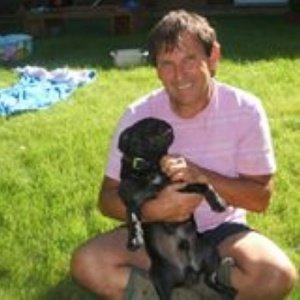 We have 5 Pugs of our own at present. There is the old man – Gizmo. ( Featured above ) – Not the one with the Pink T shirt!.
He is nearly 11 years old and starting to look like Father Christmas with a white muzzle and paws. Our next Pug was Gremlin " the Young Pretender " who was another black Pug. We then saved poor Gemma from a glass cage in a Pet Shop in Spain. Actually it was more like Death Row since they had threatened to put her down if she was not sold by Christmas.
She had withered muscles and even found walking difficult but slowly she recovered . The story has a happy ending since she met up with young Gremlin and started a family. In September last year they had 6 beautiful Black Pug puppies : Tristan, Tommy, Morgan, Cloe, Teddy and Bacon. Approximately 6 months later , when they had all had their innoculations etc; We found good homes for them , but we decided to keep Bacon, who was the runt of the litter (and subject to considerable bullying by his siblings).
His continuing exploits will be documented on this blog in " Bacons Diary ".
I almost forgot Maya – a beautiful Fawn Pug who comes from the land of forests and fjords – Norway. She has become Gizmo's soul mate. By the way a Pug in Norway is called a Mops!
Having your own pack of Pugs is a lot of hard work but we would not have it any other way.
We love them !
We are actively looking for content curators, producers and creators.  If you would like to learn more about working with us please feel free to "Contact Us" and we will get back with you!   We scour the web for the most interesting stories and videos and try to present it in an original and fun way.  Above all we always try to feature original content .
Most of all Enjoy, Share, Like, Link, Tweet and everything else you can do to our content here on the site.
Many thanks
Alan , Jasmine & Elspeth
Pug Channel Editors
Click to see Video..